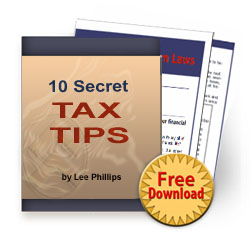 Salt Lake City, UT (PRWEB) September 25, 2012
Adjusted gross income (AGI) is the most critical number on a persons tax return, claims Lee R. Phillips, a nationally recognized lecturer on business structures and tax planning. There are a number of practical tax tips that most tax payers, particularly small business owners, can use to lower their taxes, he said.
LegaLees Corporation has released an updated list of its Advanced Tax Tactics. The list includes a two hour audio lecture by Phillips that instructs tax payers on the techniques outlined on the list.
Hal Rosen, a Salt Lake City CPA specializing in small business planning, said, Taxes are often the biggest single factor in the profitability of a small business. A small business owner can significantly affect his or her adjusted gross income by controlling taxes in the business. It is hard for a business owner to work 20% harder, but a couple of good tax tips can cut the taxes of many small businesses by 20%.
People dont know what is going to happen to them on January 1st next year, said Rosen. The Washington Post dubbed the tax hike coming Taxmageddon. Ben Bernanke, Federal Reserve Chairman, has called the coming tax hikes the fiscal cliff.
Whatever name is used, the tax hikes coming will bring the average American family to its knees, Phillips explained.
Click here to save on taxes
The Heritage Foundation has calculated the tax effects that will be felt by families in different income brackets. According to them, the average family making $ 60,000 in 2013 will pay $ 4,800 more in taxes than they did in 2012.
With the kind of tax increases that are coming, people will be scrambling to cut their adjusted gross income any way they can. Any help or tax tips they can get will mean more money to live on, Phillips points out.
I think it was real chicken of the President and Congress to make Obamacare and all of the other taxes kick in after the election. If people knew what they were facing, no politician would survive this election. The best way people can cut their taxes is to understand what goes into determining their adjusted gross income, he continued.
Adjusted gross income is the number that determines a persons tax bracket, many of the tax credits available to them, whether or not they can fund a Roth IRA, whether or not they are subject to the alternative minimum tax, and a dozen other tax issues.
Adjusted gross income is the number found on the last line of the first page of tax form 1040. When accountants refer to above the line and below the line accounting, they are referring to the AGI line on 1040.
Anything added or deducted above the line will lower the adjusted gross income. Anything done below the line will not affect a persons AGI. Standard deductions, such as the home mortgage deductions and charitable contributions are below the line and dont have any affect on the AGI calculation.
All of the profits and losses in a small business or from real estate investing are entered above the line, and they either raise or lower a persons AGI.
It is important to concentrate on tax planning above the line. Standard deductions are nice, and thats were most people look for tax tips that will help. They need to be looking for tax tips that will affect their taxes above the line. They dont think above the line, said Rosen.
The tax tips released by LegaLees Corporation concentrate on above the line deductions and calculations.
The tax tips for above the line are available at http://www.legalees.com/taxtips/