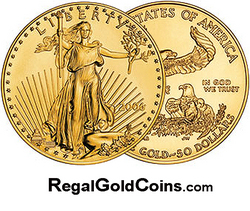 Universal City, CA (Vocus) August 24, 2010
American Gold Eagle Coins have seen an unprecedented increase in demand as countries, corporations and individuals embrace gold to hedge against a foreseen global financial crisis. By law the US mint must produce enough gold bullion coins to meet the demand of the public. In doing so all other forms of gold production to include gold proof coins and fractional gold have been suspended.
Gold dealer Regal Assets is encouraging Americans to invest in gold as countries like China and India have adopted Gold buying programs which will further increase a strain on availability. Most recently an anonymous Swiss buyer purchased a large order of Krugerrand gold from the South African Rand Refinery pushing availability back to mid-September 2010.
The unwarranted recession across the world has shaken up investors confidence in the fluctuating value of paper currency as well as stocks of blue chip companies. History has shown that physical possession of gold coins and silver has and still does back debt and influence trade. This has become an easier and more common process over the last century as most all counties mint gold bullion coins in 1 ounce.
According to gold dealer Regal Assets, most Americans have never held a gold coin in their hand and are ignorant to its value and what the current gold price means in the international market. Due to the Great Depression gold was called in by the government and melted down making possession of gold in a sense unlawful to possess. Now, several generations later, Americans are having to re-educate themselves on the Fiat currency system of America and how they can financially protect themselves.
According to the experts at Regal Assets only taking physical possession or investing in a Gold IRA are trusted means of gold investment. Gold can be purchased online and physically shipped direct to an individual so they have it in hand. While gold proof coins and Krugerrands maybe sold out at the mint they may be available through a gold dealer and can be obtained by contacting Regal Assets at 1-888-700-9887 or online http://www.RegalGoldCoins.com
###
Find More Fiat Currency Press Releases