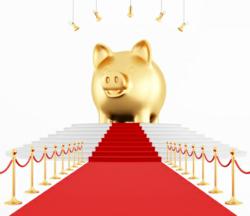 New York, NY (PRWEB) April 20, 2012
The Peoples Bank of China, equivalent to the Federal Reserve in the U.S., has been busy attempting to acquire gold bullion wherever it can find it, according to Michael Lombardi, lead contributor to Profit Confidential. Lombardi believes that China is helping to fund its gold mining companies with capital, which is enabling it to buy gold mining companies overseas, mine the gold bullion, and return it back home where it can sell it to the Peoples Bank of China.
In the recent Profit Confidential article, An Insatiable Appetite for Gold, Lombardi states that China is home to very large gold mining companies that produce 390 tons of gold bullion every year, which China is keeping for itselfnot allowing the gold mining companies to export this gold bullion.
China has banned all exports of gold bullion and ordered its gold mining companies to sell all of their gold bullion to the Peoples Bank of China, says Lombardi.
Lombardi also highlights that Zijin Mining Group, the largest of Chinas gold mining companies, has offered to pay a 46% premium for Norton Gold Fields, one of Australias gold mining companies. Zijin also owns a 60% controlling stake in Altynken, a major gold mining company based in Kazakhstan.
Zijin has said that it is setting aside 5.5 billion yuan ($ 880 billion) of cash that it has on hand for acquisitions overseas, says Lombardi.
Lombardi believes that Chinas Mining Federation is studying different ways it can make capital more available to its gold mining companies, so that acquisitions overseas will be that much easier.
It looks like China, in its desire to increase its reserve of gold bullion, is using its gold mining companies to help with the confiscation of gold bullion worldwide, says Lombardi.
Profit Confidential, which has been published for over a decade now, has been widely recognized as predicting five major economic events over the past 10 years. In 2002, Profit Confidential started advising its readers to buy gold-related investments when gold traded under $ 300 an ounce. In 2006, it begged its readers to get out of the housing market… before it plunged.
Profit Confidential was among the first (back in late 2006) to predict that the U.S. economy would be in a recession by late 2007. The daily e-letter correctly predicted the crash in the stock market of 2008 and early 2009. And Profit Confidential turned bullish on stocks in March of 2009 and rode the bear market rally from a Dow Jones Industrial Average of 6,440 on March 9, 2009, to 12,876 on May 2, 2011, a gain of 99%.
To see the full article and to learn more about Profit Confidential, visit http://www.profitconfidential.com.
Profit Confidential is Lombardi Publishing Corporations free daily investment e-letter. Written by financial gurus with over 100 years of combined investing experience, Profit Confidential analyzes and comments on the actions of the stock market, precious metals, interest rates, real estate, and the economy. Lombardi Publishing Corporation, founded in 1986, now with over one million customers in 141 countries, is one of the largest consumer information publishers in the world. For more on Lombardi, and to get the popular Profit Confidential e-letter sent to you daily, visit http://www.profitconfidential.com.
Michael Lombardi, MBA, the lead Profit Confidential editorial contributor, has just released his most recent update of Critical Warning Number Six, a breakthrough video with Lombardis current predictions for the U.S. economy, stock market, U.S. dollar, euro, interest rates and inflation. To see the video, visit http://www.profitconfidential.com/critical-warning-number-six.