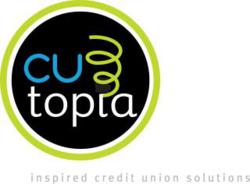 Orlando, Florida (PRWEB) October 24, 2012
Due to the array of new financial regulations and multi-national bank competitors, community credit unions are finding it exceedingly challenging to remain competitive and absorb the cost of services such as mobile and online banking. Implementing and administering such services are costly and time consuming for credit unions that must be prudent on how they spend members money. Finding an affordable single-source supplier for these services can be an even bigger challenge.
Sandra Griffis, CEO of the $ 8.6 million CN/IC Employee Credit Union in Memphis, TN recently solved that challenge by choosing CUtopias e-Suite of financial software solutions. "We chose CUtopia Solutions because our members found their products very easy to use. Having a membership that is always "on the go," it was imperative to find a robust, user-friendly, and cost effective internet and mobile banking solution, says Ms. Griffis. The training and implementation process was handled by a professional and friendly staff. CUtopia has truly been a great fit for our credit union and members!"
CUtopias, member facing software solutions deliver a full complement of dynamic, hosted solutions that include vTeller audio response, iTeller online banking, mTeller mobile banking, check imaging, e-statements and eSafe an online solution for storing valuable documents. Specifically configured to meet the needs of small to mid-sized credit unions, the e-Suite interfaces with 35 different data processors and is upgraded with new services on a semi-annual basis. Normal implementation is 45 days and it can be economically integrated into existing infrastructure or hosted in a cloud-based platform. The need for expensive hardware, servers and telephone lines is virtually eliminated. The e-Suite solution provides each credit union the flexibility to mix and match components that meet their specifications and stay ahead of the technology curve while maximizing member service and satisfaction.
About: CUtopia Solutions: CUtopia, provides a comprehensive, suite of services to small to mid-sized credit unions. From core data processing and audio response, to mobile and online banking, to check imaging and eStatements, CUtopia helps credit unions to compete effectively while streamlining their processes with state-of-the-art technologies and user-friendly solutions, As a credit union technology service provider, CUtopias goal is to enrich each individual credit unions capabilities by offering proven solutions backed by a team of forward-thinking innovators with a spirit for service. CUtopia is a division of Worldwide Interactive Services, LLC, a respected banking and credit union technology company founded in 1995 that serves more than 300 institutions throughout the U.S. All CUtopia services are AICPA Service Organization Control Reports certified. http://www.cutopiasolutions.com 888-596-4947