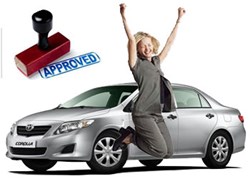 Seattle, WA (PRWEB) August 23, 2013
In todays struggling economy, consumers with bad or no credit are considered high risk by most lenders. Thankfully, Complete Auto Loans (CAL) is dedicated to helping poor credit holders procure the loan they need. Their article Guide to Co-signing for Auto Loans is quickly becoming a valuable resource for struggling consumers in need of a vehicle.
The good credit neophyte has much to gain from a partnership with a financially stable cosigner, the article states. As the latter will be on the hook for paying for the vehicle should you fall behind on your payments or default on the debt, a cosigner is a very strong force for ensuring that you remain up to date on your payments.
CAL continues, explaining how lenders are often comforted by the presence of a co-signer. As a result, they are more likely to actually approve the loan. Finding a responsible and trustworthy co-signer is, in the end, an invaluable option for consumers with poor credit. By reading, comprehending, and applying Complete Auto Loans article, loan-seekers are finally getting the car they need – all without struggling through bad credit loopholes or high interest rates.