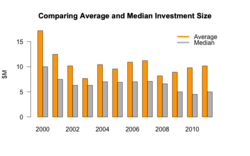 New York City, New York (PRWEB) January 08, 2013
Even with the Fiscal Cliff dodged by Congress, Deal Capital forecasts tepid growth in Software M&A activity for the coming months of 2013. Deal Capital bases the analysis on three logical pillars. First, an environment for difficult long-term tax planning keeps investors on-hold for planning for the future. Secondly, massive government debts and monetary easing will continue to dwarf private sector spending. Finally, contraction in the number and size of venture funds and general private funding means less money for deals.
With Congressional stalemates and regular last-minute deals in the Legislature, the ensuing short-term fixes create uncertainty about investing for the long-haul. Difficulty in long-term planning often spooks investors, but more specific tax code changes will have an impact on the growth of many high-tech companies who rely on venture funding.
First, the payroll tax expiration and new Affordable Care Act tax increases put an even greater burden on hiring employers. Since the technology field relies, in large measure, on venture capital fund inputs for quick hockey stick growth, it makes projects less enticing overall.
Second, higher taxes for venture funds on carried interest included in the American Jobs Act further temper incentives for investing in fast-growing companies. In some cases, taxes on carried interest when a company goes public or is sold will increase from current levels of 15% up to 35%. The tax burden will certainly have an impact on the venture capital world as well as the M&A activity in the software sector at large.
Merger activity in software will also remain tempered as venture funds continue to slide in size and volume. Median investments made by venture funds across the board have been down over the last decade. According to Foley & Lardner, the number of venture funds has significantly decreased in the last decade, going from nearly 1,200 in 2001 down to just above 600 in recent months. Furthermore, market calamities have accelerated the decline and influence of venture capital funds. Software acquisition activity relies heavily on venture and other private sector funding. The contraction bodes poorly for the entire tech sector.
In addition, Fiscal and Monetary policy measures aimed at spurring overall market growth are expected to continue to dwarf private investment in the coming year, effectively working to crowd-out growth in high-tech areas. The latest round of Quantitative Easing (QE3) by the Federal Reserve Bank, allows for the Fed to relieve an ongoing (with no maximum amount or time limitations) $ 40 billion per month in housing market debt risk. The easing will have some positive impacts, but will ultimately work to crowd-out private investments, including software and technology mergers and acquisitions.
We certainly expect particular growth sectors to lead the way, but overall, we are noticing a general trend which is a bit disconcerting: money is flowing less than in previous periods, says Equity Analyst Troy Jenkins of Deal Capital. Were seeing cautious investors and companies afraid of jumping into the investment and M&A pools, knowing more risk is inherent in todays technology market than a decade ago.
With tempered expectations, the company is confident particular sectors will continue to maintain value over the coming year including some fundamental eCommerce and high-growth IaaS sectors within cloud computing.
While we are expecting a lower-than-usual M&A storm in 2013, we also recognize the potential for rapid pick-up if certain triggers or market jitters occur, says Jenkins. If we see large swings in bond prices, we may see significant uptick in distressed merger opportunities. In general the market still remains sluggish and were trying to be very realistic in our expectations of software and tech M&A through the coming year.
About Deal Capital
Deal Capital is a merger and acquisition advisory firm, with satellite offices across the country. The company focuses on software and technology mergers and acquisitions and works with investors and software companies on specific growth strategies. For more information, please visit http://www.dealcapital.com/