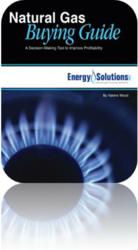 Verona, WI (PRWEB) November 02, 2011
Energy Solutions, Inc., an educational provider of natural gas price information and price trends, projects that natural gas prices will rally within the next thirty days, despite bearish fundamentals of supply and demand. Natural Gas Buying Guide, an informational resource to assist natural gas buyers in their natural gas purchasing decisions, further explains the extent of this anticipated rally and provides guidance to natural gas buyers on how to best prepare for it.
Natural gas producers have continued their search for natural gas despite a weak price environment. Improved drilling rig efficiencies and lower operating costs have reduced production expenses. On the other side of the equation, higher natural gas production yields, combined with the cost benefits of the sale of natural gas liquids (NGLs), which are produced in conjunction with natural gas, have supplemented producer revenues. Together, these factors have reduced the break-even price point for natural gas, allowing producers to accept a much lower sale price for their natural gas while retaining desired profit margins.
Historically, natural gas prices stage a pre-winter rally, and this year is not expected to be an exception. "Seasonal price trends provide insight into the extent and duration of natural gas price rallies and price declines," says Valerie Wood, President of Energy Solutions, Inc. It is difficult to envision a price rally given the current fundamentals of supply and demand. However, natural gas prices are expected to rally $ 1-$ 1.50 per MMBtu when temperatures turn colder in the northern half of nation, warns Wood.
Natural Gas Buying Guide provides readers with the necessary tools and advice to adequately understand and prepare for natural gas purchasing opportunities. In particular, Natural Gas Buying Guide addresses how and when the changing natural gas drilling rig count, shale gas production growth, NGL prices and rising demand from the electric power sector will collide, prompting a long-term reversal of natural gas price weakness. This guide then provides readers with a recommended plan of action to take to ensure that goals of profitability and price stability are achieved.
Energy Solutions, Inc. specializes in helping end use businesses develop and implement cost effective natural gas risk management strategies that protect profit margins and eliminate budget variances. Natural Gas Buying Guide urges natural gas buyers, particularly large end use businesses, to be proactive during this current time of natural gas price weakness.
Natural Gas Buying Guide is available at a reduced rate of $ 199 through November 30, 2011. To learn more about Natural Gas Buying Guide, click here to view the Executive Summary, contact Valerie Wood directly at (608) 848-6255, or visit our website at http://www.energysolutionsinc.com.
About Energy Solutions, Inc.

Formed in 1996, Energy Solutions, Inc. is independently owned. With combined experience of more than 50 years in the natural gas industry, our team focuses on helping businesses better understand the natural gas industry in order to improve their competitive edge.
###