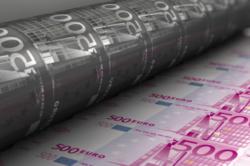 New York, NY (PRWEB) December 15, 2011
A bailout of the troubled eurozone countries could lead to even bigger problems for the region, according to Michael Lombardi, lead contributor to financial e-newsletter Profit Confidential.
The European Central Bank (ECB) has just cut interest rates again, for the second straight month, to one percentthe lowest level on record for the ECB. Policies of interest rates kept artificially low and increasing the money supply are directly responsible for the 500% increase in the price of gold bullion, declares Lombardi.
Gold bullion prices are screaming inflation ahead, says Lombardi who has written an in-depth article for Profit Confidential entitled, Top Five Reasons Why Gold Bullion Prices Will Move Even Higher.
There is immense pressure on European leaders and the International Monetary Fund to bail out the troubled eurozone countries. The easiest way to bail them out is to issue more euros, says Lombardi, something Germany has been steadfastly against. Increasing the money supply has been one of the Federal Reserves tools to stimulate growth in the U.S. during the recession.
Germany is against printing more money, explains Lombardi, because after World War I Germany experienced a nasty bout of hyperinflation that crippled the country, a memory that lingers in the minds of many German politicians.
Economics 101 tells us that, when there is too much supply of an item, such as fiat money, the value drops. Be it the euro or the dollar, the more they print of it, the less its actually worth, says Lombardi, This is how we get rapid inflation.
Profit Confidential, which has been published for over a decade now, has been widely recognized as predicting five major economic events over the past 10 years. In 2002, Profit Confidential started advising its readers to buy gold-related investments when gold traded under $ 300 an ounce. In 2006, it begged its readers to get out of the housing market…before it plunged.
Profit Confidential was among the first (back in late 2006) to predict that the U.S. economy would be in a recession by late 2007. The daily e-letter correctly predicted the crash in the stock market of 2008 and early 2009. And Profit Confidential turned bullish on stocks in March of 2009 and rode the bear market rally from a Dow Jones Industrial Average of 6,440 on March 9, 2009, to 12,876 on May 2, 2011, a gain of 99%.
To see the full article and to learn more about Profit Confidential, visit http://www.profitconfidential.com.
Profit Confidential is Lombardi Publishing Corporations free daily investment e-letter. Written by financial gurus with over 100 years of combined investing experience, Profit Confidential analyzes and comments on the actions of the stock market, precious metals, interest rates, real estate, and the economy. Lombardi Publishing Corporation, founded in 1986, now with over one million customers in 141 countries, is one of the largest consumer information publishers in the world. For more on Lombardi, and to get the popular Profit Confidential e-letter sent to you daily, visit http://www.profitconfidential.com.
Michael Lombardi, MBA, the lead Profit Confidential editorial contributor, has just released his most recent update of Critical Warning Number Six, a breakthrough video with Lombardis current predictions for the U.S. economy, stock market, U.S. dollar, euro, interest rates and inflation. To see the video, visit http://www.profitconfidential.com/critical-warning-number-six.
###