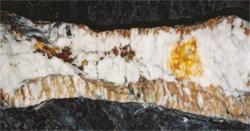 Vancouver, BC (PRWEB) July 04, 2012
(Financial Press) – Donning his favourite paisley tie, Frank Callaghan looks out his downtown Vancouver office window at the pouring rain and deadpans; this is going to be a fantastic summer for Barkerville.
Nobody around him questions the optimistic forecast, as they are used to their boss seeing the light through palls of economic gloominess.
After building a stock market reputation for seizing opportunities where others view obstacles, Callaghan's doggedness in following the trail established by gold miners of yore, is paying off handsomely today for British Columbia, not to mention his shareholders.
This week, Callaghan, the president and CEO of Barkerville Gold Mines Ltd, has prepared the perfect birthday present for the historic Cariboo gold rush town of Barkerville, which is celebrating its 150th birthday.
There is more gold there than we originally thought, said Callaghan, referring to a newly-minted resource estimate that has propelled his company from having one of the largest potential gold deposits in B.C. to having one of the largest on the planet.
Released late last week, the new estimate on about 10 percent of the companys 100%-owned Barkerville property, is reported to have a geological potential of 65-90 million ounces of gold.
The indicated resource in one location alone known as Cow Mountain was estimated at 10.6 million ounces. The companys property covers 1,118 square kilometers with the field office being about six kilometres northwest of Barkerville town.
In comparison,Vancouver-based Goldcorp. Inc., whose Red Lake mine in northwestern Ontario, which is rated as one of the worlds most profitable, has 3.95 million ounces of proven and probable gold reserves.
This resource estimate, puts the Cariboo Gold Project into the world class category and is a testament to the team weve assembled and 18 years of hard work and perseverance, said Callaghan.
The new geological resource estimate for Barkerville Gold Mines Ltd. was compiled by Peter George of Geoex Limited, a veteran Canadian geologist, who analyzed data from over 7,000 drill holes completed by the company and previous operators. The most significant results in the new report come from an expanded drill program which was completed in December, 2011.
Georges analysis is credited with pushing Barkerville Gold Mines Ltd stock on Friday last week by 50 percent, leaving it at the weeks close of $ 1.21 and a market cap of $ 129.8 million.
Although I have long believed in the potential of a multi-million ounce resource on the Barkerville property, I must say that never in my wildest dreams did I anticipate such an outstanding discovery, said Ian Gordon, President of Longwave Analytics Inc, which specializes in mining investment strategies.
Eric Sprott of Sprott Asset Management LP said the region which historically had many former producing mines could contain multiples of the current resource projected by Barkerville Gold Mines Ltd
It took a long time but it looks like we hit the tipping point, he said.
The expanded resource estimate comes on the heels of an earlier announcement that Barkerville Gold Mines Ltd. has received all the environmental permits necessary for it to go ahead with another mine development at its Bonanza Ledge project, which is also in the same area.
Callaghan estimates that Bonanza Ledge will produce up to 25,000 ounces of gold annually. Ore from Bonanza ledge will be shipped west to processing facilities at the companys fully permitted QR Mill, located between Wells and Quesnel.
The birthday gift from Callaghan is great news for District of Wells Mayor, Robin Sharpe.
While mining built the Wells/Barkerville area in the 1860′sits importance to the area has faded over the last few decadesnow with the probability of a new mine and mill opening in the area, it is a chance to diversify our economy and build on all of our successes, said Sharpe.
He said a mine and mill employing about 100 people will more than double the areas population base.

It will make our community more vibrant and sustainable over the long run. More activity will mean more families moving to our town, which will be good for our businesses, school and community groups.
Rich Coleman, B.C.s Minister of Energy and Mines said the estimates compiled by Barkerville Gold Mines Ltd show mineral exploration and mining are booming in the province.
We are working to ensure our mining industry remains well positioned to create opportunities. More than 29,000 people were employed last year in mining, mostly in rural locations, providing well-paying jobs that benefit families across the province," he said.
Callaghan's odyssey in realizing the new potential of the area is not unlike the adventures of Englishman William "Billy" Barker when he went hunting for gold below the canyon at Williams Creek in Barkerville, his namesake town.

Undaunted by long periods of bad luck, Barker struck pay dirt on Aug. 17, 1862, to become the most successful miner of the Cariboo Gold Rush, and British Columbia grew out of his find.
For Callaghan the road to success wound through Howe and Bay streets boardrooms to the backwoods of B.C. where he fought the skeptics by keeping true to his vision.
Sometimes I drilled with nothing but my credit card, said Callaghan, conceding that there is still much work to be done and that his new resource estimates will make Barkerville Gold Mines Ltd a prime target for a takeover.

For me and the people who believed in our project, the ride is just starting, said the 58-year-old native of Prince Edward Island, who at the age of 16, hitchhiked out to Vancouver and has never looked back.
A fee has been paid for the production and distribution of this report. This report is not and should not be construed as an offer to sell or the solicitation of an offer to purchase or subscribe for any investment. No information in this article should be construed as individualized investment advice.
Related Gold Reserves Press Releases