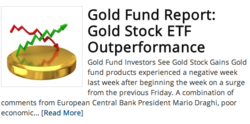 Chicago, IL (PRWEB) August 07, 2012
Gold ETF investment site, GoldETFs.biz, reports that gold stock funds significantly outperformed physical gold ETFs last week. This is notable as most gold stock ETFs have lost over 20% of their value this year while physical gold ETFs have gained close to 2%. This move could signal the beginning of a rebound in the performance of gold stocks and the ETFs that track them.
While market sentiment varied throughout last week, a strong rally on Friday set up gold stock ETFs for healthy gains.Top performing gold ETFs included the Global X Gold Exploration ETF, the iShares Gold Miners ETF and the Market Vectors Junior Gold Miners ETF. These ETFs gained as much as 2.8% on the week according to the GoldETFs.biz performance grid.
"Gold stocks have been underperforming the price of gold since February," said Christian Magoon Publisher of GoldETFs.biz. "The bounce in gold stock ETF performance over the last several days is refreshing. It will be interesting to see if this rally maintains its momentum going forward."
The four largest gold ETFs focused on stocks in the U.S. are the Market Vectors Gold Miners ETF, the Market Vectors Junior Gold Miners ETF, the Global X Gold Explorers ETF and the iShares Global Gold Miners Fund. Each fund's fees, prices and performance can be compared via the complete gold ETF list on GoldETFs.biz.
A combination of developments in Europe and the U.S. were responsible for gold price volatility last week according to GoldETFs.biz. On Friday a careful interpretation of ECB President Draghi's statement emerged which encouraged investors thirsting for hopes of more liquidity. This promptly rallied gold prices and sent gold stocks up significantly. Physical gold ETFs like the SPDR Gold Trust, gained close to 1% on the day while gold stock ETFs enjoyed gains of close to 2%. This Monday's trading session continued the bullish trend as the largest gold mining ETF gained over 2%.
About GoldETFs.biz
GoldETFs.biz is a leading investor education site focused on gold funds and the markets they track published by ETF insider Christian Magoon. The site provides a complete gold ETF list, comparison tools and real time insight on gold through Twitter feeds. Besides the site, users can access GoldETFs.biz content on Facebook, YouTube and Google+. Follow @GoldETFsBiz on Twitter or become a fan on Facebook at /GoldETFsBiz.
About Christian Magoon
Christian Magoon is CEO of ETF consulting firm Magoon Capital. PAIR Digital, a division of the firm, publishes ETF related content including GoldETFs.biz. Having launched over 40 ETFs to date, Magoon is an ETF insider and innovator. His vision for GoldETFs.biz was to create a convenient, social and educational source of ETF information on the gold exchange traded fund segment. IndiaETFs.com is a sister property. Christian has been named an "ETF Pioneer" and was recently featured as "One of Five ETF Experts To Follow On Twitter." Follow @ChristianMagoon for regular investment and ETF insight.
Related Draghi Press Releases