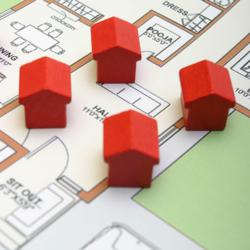 Minneapolis, MN (PRWEB) September 26, 2012
The Romney-Ryan Plan To End The Housing Crisis whitepaper points to current legislation as extensive and cumbersome to the extreme that some banks have more compliance officers than loan officers. A hefty quarter of Americans say they want to know who will be running our country in the Oval Office next – before making a home purchase, according to a poll conducted by Harris Interactive on behalf of MortgageMarvel.com.
Results culminated from the opinions of more than 2,500 adults show that a quarter of potential home buyers are not comfortable signing a mortgage contract until it is clear who will be our next president.
Jenna Thuening, owner of Home Destination says, "We will know that shortly. Home buyers may feel better prepared to take on a new mortgage when we are not at the cusp of so much potential change. A pending rise in taxes, or for homeowners affected by the looming home sales tax, those changes could affect budgets and mean having less to make the mortgage payments".
Its understandable that a considerable number of people say the upcoming election would give them pause for thought. It appears that mortgage interest rates will remain low for the foreseeable future, so theres no pressure on people to act before rates rise. In such an environment, I can see that cautious people would take a wait-and-see attitude before making a home purchase, says Rick Allen, chief operating officer of Mortgage Marvel.
Points of action that are proposed in the Romney-Ryan executive summary include:


End Too-Big-To-Fail And Reform Fannie Mae And Freddie Mac: protect taxpayers from additional risk in the future by reforming Fannie Mae and Freddie Mac
Responsibly Sell The 200,000 Vacant Foreclosed Homes Owned By The Government: responsibly sell 200,000+ vacant foreclosed homes
Make Foreclosure Alternatives Easier: make it easier for homeowners to get short sales, deed-in-lieu-of-foreclosure and shared appreciation.
Sensible, Not Overly Complex, Financial Regulation That Gets Credit Flowing Again: replace the Dodd-Frank Act with sensible regulation
Improve The Job Market: get the economy going and get America back to work.
Taking odds with Obama's Dodd-Frank Act as a solution for our mortgage crisis, Romney states, "The 2,319 page law has produced more than 9,000 pages of new regulations to date, and regulators are only one-third of the way done. These regulations are not without costs and the burden falls disproportionately on smaller banks that dont have the same level of resources as large banks. The consequence is that they are forced to use more of their resources hiring lawyers rather than lending to consumers and small businesses, or approving new mortgages. In one new mortgage rule, 1,100 pages of guidelines were issued by regulators for the purpose of developing a simplified three-page mortgage form. This regulatory burden is significant enough that there are even some cases where small banks have more compliance officers than loan officers".
Perhaps the release of the Romney-Ryan Plan was in response to requests for the candidates statements on how they would work to assist the housing recovery. David Crowe, chief economist with the National Association of Home Builders (NAHB), was quoted by The Hill as calling the situation "unfortunate", saying he has been puzzled by the lack of a running conversation about how to help bolster the improving sector. While "how" Romney would enforce his plan merits further conversation, Home Destination is glad to see housing is on his radar.
If you are ready to buy a home in the Minneapolis area, or are preparing to buy a home in the next six months, call Jenna Thuening, owner of Home Destination at 612-396-7832. It is a perfect time to use our mortgage worksheets, get a home buyer's quote, and take time to pre-qualify before you buy.