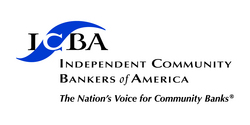 Washington, DC (Vocus) September 16, 2010
Independent Community Bankers of America (ICBA) Chairman Jim MacPhee, CEO of Kalamazoo County State Bank in Schoolcraft, Mich., issued this statement today following Senate passage of the Small Business Jobs and Credit Act (H.R. 5297), which would establish a $ 30 billion Small Business Lending Fund (SBLF) for interested community banks to expand small business lending. The legislation also includes beneficial Small Business Administration (SBA) program lending incentives and small business tax cuts. Thousands of community banks have boosted their SBA small business lending using the higher SBA guaranty levels and reduced fees for borrowers.
ICBA thanks the Senate for passing this critical legislation. Our nations sluggish economy needs help, and this is a pivotal step toward aiding Main Street Americas economic recovery. The SBLF and SBA incentives will help interested community banks enhance the flow of credit to Main Streets small business customers, who are the driving force behind local economic stability and growth. The Tier 1 capital banks can receive through this legislation could be leveraged to provide as much as $ 300 billion of new credit to small businesses.
Key provisions of the act include: