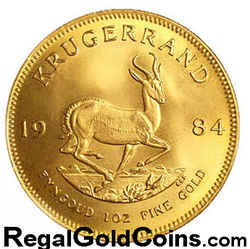 Universal City, CA (Vocus) August 9, 2010
Kugerrand gold bullion coins minted by the Rand Refine, the worlds largest gold refinery, has dried up its Krugerrand reservoir with the placement of one very big and special order kept by a person of Swiss descent. The spokesperson of the refinery further confirmed that it will only be in September that the stock can be replenished absolutely and any request to reveal the identity of individual who placed the order was turned down amicably.
Kugerrands can still be purchased thru dealers such as Regal Assets one of the world's leading recognized companies for gold investors. Regal Assets to date has been able to meet the demands of their clients, but has been urging that investors looking for specific gold coins and bullion not hesitate as global demand is at an all-time high.
It is not the first time that gold bullion coin demand has outdone its supply, in the recent past the U.S Mint discontinued its sales of American Eagle gold coins and Johnson Matthey has ceased its order intake for 100 ounce silver bars at its Salt Lake City refinery. China and India both have long term gold buying strategies that may also cause a shift in the availability of certain types of gold bullion such as the Krugerrand.
The Krugerrand was introduced and inducted in the year of 1967 and has so far, to this day, maintained steady investment and soaring popularity owing to the fact that every individual Krugerrand gold coin possesses a troy ounce of 22 Karat gold. The Rand Refinery has successfully been manufacturing, marketing and delivering Krugerrand bullion over 4 decades and has so far managed to deliver more than 46 million ounces since 1967.
Gold has remained a fixed source of shield or haven for the flickering and turbulent dollar or for that matter any currency. The price of gold is estimated by most experts to increase anywhere from $ 1,300 to $ 2,000 in the near future. In the wake of current crisis, where currencies could falter and cease to have its current importance, gold apparently seem to be a logical next best step for many.
If you or someone your know is looking to buy gold now or in the near future, the specialist at Regal Assets will be able to assist in answering your question and concerns by calling 1-888-700-9887 or visit them online at http://www.RegalGoldCoins.com
###