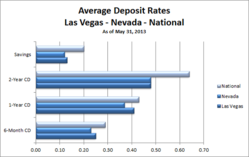 Las Vegas, NV (PRWEB) June 18, 2013
With an all-time low interest rate environment, growing savings through high-yield deposit accounts is a challenging strategy employed today. In fact, depositors can expect rates to remain near-zero through the rest of 2013 due to actions by the Federal Reserve. However, local banking site LasVegasBankingRates.com determines that Vegas residents have a few more options than depositors throughout the rest of the state in a new study examining interest rates in the city, state, and U.S. as a whole.
Using its database containing more than 5,000 national, local, and online banks and credit unions, LasVegasBankingRates.com found the average interest rates for savings accounts, as well as 6-month, 1-year, and 2-year CDs in Las Vegas, comparing these numbers against averages for all of Nevada and the United States.
The study finds average deposit interest rates in Las Vegas are slightly higher than rates aggregated for the entire state, though both city and state rates fall below national averages in all categories. Even so, the site gathered the top 10 highest savings account rates available in Las Vegas today to help local residents find the best savings options available nearby.
Average Deposit Rates: Las Vegas Nevada National
6-Month CD: 0.25% APY; 0.23% APY; 0.29% APY

1-Year CD: 0.41% APY; 0.37% APY; 0.43% APY

2-Year CD: 0.48% APY; 0.48% APY; 0.64% APY

Savings: 0.13% APY; 0.12% APY; 0.20% APY
Top 10 Savings Account Rates in Las Vegas, Nevada
Meadows Bank: 0.45% APY

Nevada National Bank: 0.30% APY

Beal Bank USA: 0.25% APY

First Security Bank of Nevada: 0.15% APY

Clark County Credit Union: 0.15% APY

America First Credit Union: 0.10% APY

Citibank, National Association: 0.10% APY

Plus Credit Union: 0.10% APY

SCE Credit Union: 0.10% APY

Bank of Las Vegas: 0.10% APY
See the full study:

http://www.lasvegasbankingrates.com/cd-rates/study-las-vegas-savings-account-cd-rates-nevada-national-average/
"Because savings rates are at an all-time low, it's easy for depositors to become discouraged," explains LasVegasBankingRates.com managing editor, Casey Bond. "However, there are high-yield opportunities at the local level, and it's important for savers to seek them out in an effort to remain protected against inflation," she adds.
For more information or to speak with a LasVegasBankingRates.com personal finance expert, please use the contact information below.
About GoBankingRates.com | LasVegasBankingRates.com
GoBankingRates.com is the national flagship site within a network of more than 1,500 banking domains, including local partner site LasVegasBankingRates.com, which generate more than 2 million visits each month. LasVegasBankingRates.com is a locally-focused website dedicated to connecting Las Vegas readers with up-to-date interest rate information, financial news and investing tools.
Contact:
Jaime Catmull, Director of Public Relations

GoBankingRates.com | LasVegasBankingRates.com

JaimeC(at)GoBankingRates(dot)com

310.297.9233 x261
###
Find More Federal Reserve Press Releases