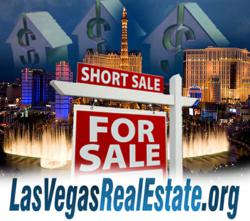 Las Vegas, NV (PRWEB) April 09, 2012
Las Vegas Short Sale homes for sale may become the next target for savvy investors as new laws keep distressed properties off the market. A short sale is a sale of real estate in which the proceeds from selling the house or property will fall short of the balance of debts owed to the bank or lender. LasVegasRealEstate.org notes that a short sale is often used as an alternative to foreclosure because it mitigates additional fees and costs to both the bank and the home owner. CNNMoney, Inman News, MarketWatch have all mentioned Las Vegas in their "Top 10″ cities to buy and invest as homeowners look towards short sales to start over.
Ashley McCormick of Realty One, Nevada's number one Las Vegas real estate company, cites short sales as the classic double-edged sword, where on one side you have a seller who is struggling to start over and the other where a buyer or investor is looking to take advantage of a opportunity. With Las vegas holding the #1 spot in America for price-to rent ratio, nowhere are potential profits better than in Las Vegas for investors who rent out the properties they buy now. The average price paid over the last 12-months for distressed bank-owned homes for sale in Las Vegas was $ 116K.
Las Vegas has reached a 5-year high for Las Vegas homes and condo sales with over half of those sales being distressed properties including foreclosures and short sales. According to the MLS there are currently over 5000-plus short sale homes for sale in Las Vegas. The prices are so affordable in Vegas that 50% of the properties are selling all-cash and over 90% of Las Vegas high rises condos for sale are purchased all-cash. However, the basic law of supply and demand could have those prices stabilizing and rising in the near future as there are over 27% fewer homes on the market than last year.
Las Vegas has lost approximately 70% of it's property value in comparison to the all-time market high 5-years ago. These properties are accounting for some of the lowest prices seen in 20-years drawing world-wide attention from buyers and investors. With the banking laws currently working with most homeowners to forgive their deficiency balance at the time of sale, McCormick says "Start Over" and try to participate in the current market. McCormick offers a free over the phone consultation on the Short Sale Las Vegas requirements and process at 1-702-523-0916. Las Vegas homes for sale can be viewed online at http://www.LasVegasRealEstate.org