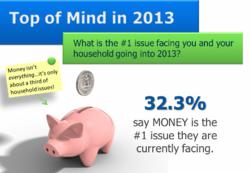 Worthington, OH (PRWEB) January 22, 2013
Money tops the list of issues facing Americans in 2013 according to a recent analysis of the latest data from American Pulse (Jan-13). Employment and the economy are also weighing on peoples minds, however not nearly as much as issues relating to their finances (or lack thereof).
Top 10 Issues Facing Americans Going Into 2013* (Adults 18+)
Money — 32.3%

Employment — 8.2%

Economy — 7.5%

Cost of Living — 5.9%

Health/Illness — 5.5%

Healthcare — 5.1%

Taxes — 4.4%

Housing — 3.8%

Debt — 3.4%

Government — 3.0%
Source: American Pulse, Jan-13

*Based on the write in question: What is the #1 issue facing you and your household going into 2013?

Responses are unaided and indicate the top issues currently facing Americans.
Click here for complimentary report and infographic.
The analysis also examines data from the Economic Indicators InsightCenter (which brings together data from multiple U.S. government sources such as the Bureau of Economic Analysis, Bureau of Labor Statistics, and the Federal Reserve) to reveal factors that may be contributing to concerns regarding the top three issues specifically.
Money

Coming out of the holiday season, consumers are typically focused on saving money. This year, however, 77% of Americans also found their paychecks shrinking from higher taxes resulting from the fiscal cliff deal, according to estimates from the Tax Policy Center.
Further, outstanding consumer credit debt is up 5.9% from November 2011 to 2012 which equates to approximately $ 153 Billion. The credit crunch appears to be weighing on the minds of consumers as 36.3% are looking to pay down debt and 36.1% are decreasing spending over the next three months (source: http://www.ConsumerSnapshot.com) .
Employment

Adding to consumers money woes is the less-than-stellar employment environment, with a large portion of Americans continuing to worry about unemployment, underemployment, and job security. And its no wonder whythough there has been an improvement in the official unemployment rate over the past year (7.8% December 2012 vs. 8.5% December 2011), the number of Americans currently looking for work remains well over pre-recession era levels. The less-cited U-6 rate of unemployment, which includes the unemployed, the marginally attached, and those employed part-time for economic reasons, was 14.4% in December 2012.
Economy

Given consumers concerns over their personal financial situation and the employment environment, its not surprising that the economy in general ranks number three on the list. Although ushering in the New Year generally brings feelings of optimism, confidence in the economy declined two points from December (37.6% December 2012 vs. 35.3% January 2013). While the percentage of those confident/very confident in the economy is elevated from January readings throughout the recession, consumer confidence will likely remain shaky in 2013. Talks of a new debt ceiling crisis monopolizing news headlines and general distrust in Washingtons ability to manage the economy continue to impact this key measure of consumer mindsets.
Prosper Insights & Analytics

Prosper Insights & Analytics provides advanced business intelligence using sophisticated analytical software to examine big datasets and provide answers to executives via its cloud-based InsightCenter platform powered by Prosper Technologies. By integrating a variety of data including economic, behavioral and attitudinal data, Prosper Insights & Analytics delivers insights for executive decision making. Further, it is continually identifying unique insights through analytics to enable marketers to make knowledge-based decisions rather than relying on intuition. To learn more: http://prospertechnologiesllc.com/contact.php
reInvention LLC

reInvention LLC provides global sampling and data collection services. Driven by a passion for making it incredibly easy to survey audiences anywhere in the world, reInvention delivers high-quality responses and superior results. OneOpinion, reInventions respondent panel, is a next generation survey taking platform that encourages survey participation through sophisticated technology, honest communications, and respectful compensation. reInvention was founded by Hugh Davis and Keith Price and is headquartered in Westport, CT. http://www.reInvention.com
Contact:

Chrissy Wissinger, Senior Manager, Communications

chrissy(at)goProsper(dot)com

Dianne Kremer, Senior Analyst

dianne(at)goProsper(dot)com

614-846-0146
reInvention LLC

Jim Nikolis

jnikolis(at)reinvention(dot)com

203-635-0882
Find More Federal Reserve Press Releases