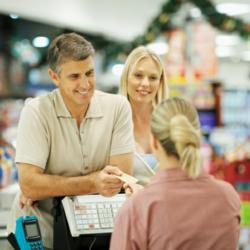 New York, NY (PRWEB) November 24, 2012
In a recent Investment Contrarians article, editor and financial expert George Leong reports that the National Retail Federation (NRF) notes that retail sales for the holiday season have increased for three straight years, and the hope is for a fourth year of increases. As Leong notes, the NRF is optimistic, and estimates that this holiday retail sales season will generate sales of $ 586.1 billion, up from $ 563.0 billion in 2011. (Source: Holiday FAQ, National Retail Federation web site, accessed November 19, 2012.) According to Leong, if all goes well for the retail sector during the key Thanksgiving Black Friday to Cyber Monday retail sales period, there could be some quick profits to be made in the market.
Leong reports that, in 2011, strong retail sales on Black Friday gave a boost to the stock market, as the S&P 500 climbed nearly nine percent between November 25 and December 7, 2011. He notes that the same could happen this year.
a strong showing in retail sales during the four-day key selling period beginning on Friday could help to attract some buying from Wall Streeta near-term boost, at the least, for a market that is full of uncertainties, reasons the Investment Contrarians expert.
As Leong notes, according to Adobe, online sales on Cyber Monday, the Monday following Thanksgiving, are estimated to rise 18% year-over-year to $ 2.0 billion. (Adobe Predicts Online Sales Will Reach $ 2 Billion This Cyber Monday, Growing by 18 Percent Over 2011, Daily Finance via Business Wire, November 19, 2012.)
Leong states that a strong showing in retail sales could drive up the stock market, resulting in some quick profits, as was the case in 2011.
In Leongs view, the next several weeks, running until the end of the year, could prove critical, as stocks look for support on the charts amidst the current abundant risk, including the financial crisis in the eurozone, fears of economic stalling and the leadership change in China, and the rising tensions in Gaza.
Leong concludes that at this juncture, stocks need a fresh catalyst to move higher, and this could be a strong retail sales season.
To see the full article, and to get a real contrarian perspective on investing and the economy, visit Investment Contrarians at http://www.investmentcontrarians.com.
Investment Contrarians is a daily financial e-letter dedicated to helping investors make money by going against the herd mentality.
The editors of Investment Contrarians believe the stock market and the economy have been propped up since 2009 by artificially low interest rates, never-ending government borrowing, and an unprecedented expansion of our money supply. The official unemployment numbers do not reflect people who have given up looking for work, and are thus skewed. They believe the official inflation numbers are also not reflective of todays reality of rising prices.
After a 25- to 30-year down cycle in interest rates, the Investment Contrarians editors expect rapid inflation caused by huge government debt and money printing will eventually start us on a new cycle of rising interest rates.
Investment Contrarians provides unbiased research. They are independent analysts who love to research and comment on the economy and investing. The e-newsletters parent company, Lombardi Publishing Corporation, has been in business since 1986. Combined, their economists and analysts have over 100 years of investment experience.
Find out where Investment Contrarians editors see the risks and opportunities for investors in 2012 at http://www.investmentcontrarians.com.
George Leong, B. Comm., one of the lead editorial contributors at Investment Contrarians, has just released, A Problem 23 Times Bigger Than Greece, a breakthrough video where George details the risk of an economy set to implode that is 23 times bigger than Greeces economy! To see the video, visit http://www.investmentcontrarians.com/press.
Find More Interest Rates Press Releases