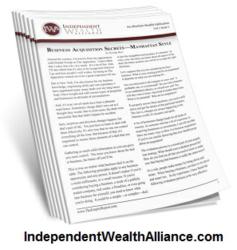 Austin, TX. (PRWEB) March 08, 2012
James R. Gorrie talks about how the Iranian situation is becoming ever more heated, the article in the newsletter explains, with some deeper questions than simply the possibility of nukes needing to be asked. The newsletter states, that the most interesting thing about the Iranian position is not simply its nuclear aspirations (sure, they want them but will Israel let them have them?) but also the money factor in the equation. The Absolute Wealth newsletter explains that the facts are, that Irans currency, the rial, is greatly devalued, the US-backed sanctions have really taken their toll on the Iranian economy, and the oil business is the only play the Iranians have.
The Absolute Wealth newsletter says, they begin to accept oil payments in gold from various buyers like India, China, and Russia, but do people ever wonder who is truly responsible for the gold-for-oil play, an Iranian Proxy. The article in todays Absolute Wealth newsletter asks, is it really the Iranians?
For starters, the Absolute Wealth newsletter reports, the Iranians can see what happened to both Saddam Hussein and Muammar Khadafy when they tried to sell their oil in something other than petrodollars, and today, there are three U.S. battle groups in the region and the language of war is being spoken much louder than before.
The Absolute Wealth newsletter article by James Gorrie says, the possibility of a nuclear armed Iran is certainly there to one degree or another, and the Israelis are taking the rhetoric of the Iranian leaders very seriously, but it is James Gorries sense that tells James Gorrie that its not the Iranians acting alone.
The article in todays Absolute Wealth newsletter reports that since the 1970s, oil has had to be purchased in dollars only, because that is the deal the U.S. cut with OPEC. The article goes on to say in the newsletter, that the OPEC countries would then hold their dollars in US Treasuries. It has been a built-in support structure to prop up the value of the dollar after the U.S. left the gold standard in 1971, the newsletter reveals.
Read the rest of this article, Petrodollar Poker by James R. Gorrie that was published in the Absolute Wealth newsletter The Gorrie Details column today.
###