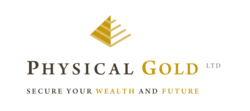 (PRWEB UK) 14 January 2013
Gold prices were up by 0.4% to $ 1,688.50 an ounce on Monday morning, as the Euro rose half a percent in light of the European Central Bank keeping interest rates unchanged.
Gold was also supported by a weaker dollar, making the dollar-priced commodity more attractive to other currencies.
The precious metal was also helped by physical buying from China and rising expectations of more monetary easing measures being introduced in Japan.
A spokesperson from Physical Gold said:
There are a number of factors supporting gold at the moment which is why we have seen the price remain relatively strong. Gold has been a strong commodity over the past decade, supported by a number of factors. It is well worth exploring gold investment if you want to see a return on your money in the long term and hedge against inflation.
Physical Gold is continuing to monitor these latest developments with interest.
Physical Gold Ltd is a leading UK gold dealer, helping investors diversify their portfolios with innovative investment solutions. Renowned for their ground breaking products such as the Sipp gold and Gold Accumulation Account, the firm specialise in providing customers with tailored assistance in sourcing the best gold for their personal requirements. Based in London, the team are BNTA accredited and have an unrivalled knowledge of the gold market as well as an exceptional understanding of the general financial markets.