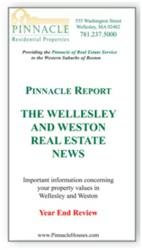 Wellesley, MA (PRWEB) March 06, 2012
A detailed, year-end Wellesley real estate review and analysis is now available from Pinnacle Residential Properties.
Elaine Bannigan, owner of Pinnacle, said National and even regional real estate statistics are not necessarily relevant as market conditions vary by town and further, by price range within each town. Each town has its own set of circumstances that make detailed town analysis the only way to analyze local conditions. In order to make informed decisions, buyers and sellers must have this important data.
This year-end Pinnacle Report compares residential MLS property sales in Wellesley from 2010 to 2011. The 2011 single family transaction volume decreased 7% from 2010. A closer look shows that only three price ranges had fewer sales: from $ 400-600,000 the volume was down 40%; from $ 800-1M it was down 33%; and from $ 1.5-2M it was down 18%. In every other price range, there was an increase in the number of sales, the median price actually increased 7%, and the total dollar volume increased 5%. Prices showed stabilization across all ranges. Luxury housing had an especially strong finish, with nearly double the number of sales of properties priced over $ 2.5M. Notably, for sales from $ 3M-4M, the ratio of selling price to original asking was 90% – up from 74% last year. There were also three sales over $ 5M in 2011, compared to none in 2010.
[Wellesley houses did take slightly longer to sell this year as the overall average marketing time (days on the market) increased 7%. The notable exception was the high end (over $ 3M) - the market time for those properties was reduced nearly 30%.
As for the supply side, during the height of the weather-delayed Spring market, the available 2011 inventory was relatively consistent to that of 2010 in most price ranges. The exception was the over $ 3M market. There were a third fewer of these properties for sale until Q4, when supply was added.
In sum, while there was lower transaction volume in a few ranges, prices stabilized and high end activity increased considerably. It was an improved year for Wellesley real estate.
To receive a free copy of the report contact Pinnacle Residential Properties at 781-237-5000 or visit the companys website.
###