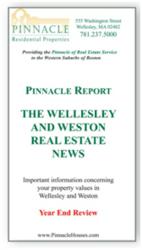 Weston, MA (PRWEB) March 08, 2012
A detailed, year-end Weston real estate review and analysis is now available from Pinnacle Residential Properties.
Elaine Bannigan, owner of Pinnacle, said National and even regional real estate statistics are not necessarily relevant as market conditions vary by town and further, by price range within each town. Each town has its own set of circumstances that make detailed town analysis the only way to analyze local conditions. In order to make informed decisions, buyers and sellers must have this important data.
This year-end Pinnacle Report compares residential MLS property sales in Weston from 2010 to 2011. In Q4 there were a total of 20 sales in Weston, versus 26 in 2010, 22 in 2009, and just 14 in 2008. By year-end, overall Weston transaction volume decreased slightly from 2010. The median price increased 5.5%, and the total dollar volume increased 8% (the result of a single very high sale). Houses took less time to sell – the average market time decreased 20%. The sales in each price band were comparatively consistent: 44 sales under $ 1M versus 47 in 2010, 46 sales from $ 1M to $ 2M versus 47 in 2010 and 16 sales over $ 2M versus 16 in 2010. But Westons luxury market broke price barriers. In 2010 there were no sales higher than $ 3.7M. In 2011, there were six sales over $ 3M (three of which were over $ 5M and the highest was over $ 15M).
In almost all ranges, sales-price-to-original-listing-price ratios were slightly improved from last year. This appears to be a reflection of better pricing on the part of sellers and their agents as well as price stabilization.
On the supply side, the 2011 total single family inventory was very consistent with that of peak Spring and Fall market 2010 weeks.
In sum, the Weston real estate market was characterized by slightly lower volume, stabilized pricing, a shorter time to sell and a handful of remarkable luxury market sales it was an improved year for Weston real estate.
To receive a free copy of the report contact Pinnacle Residential Properties at 781-237-5000 or visit the companys website.