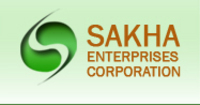 Toronto, Ontario (Vocus) July 16, 2009
Sakha Enterprises Corporation (PINKSHEETS: SAKH) (SAKH) is pleased to announce that it has signed an Engagement Letter with Goldbear Capital Corporation of Toronto, and has entered into the first phase of an agreement to raise up to U.S. $ 10 million for exploration for its properties in Buryatia, Russia.
The funds will be utilized for completion of the drilling work required to convert presently Russian Classification Resources of gold resources, to Canadian NI-43-101 Compliant Classification of gold Reserves. This is required for listing the company on the TSX Stock Exchange and for further development of the deposits.
Goldbear Capital Corporation will assist Sakha Enterprises Corporation to obtain the listing on the TSX Stock Exchange that is projected to take between 120-150 days.
"This engagement represents a significant step forward for Sakha in order to generate the required exposure leading us to becoming a sizable gold producer in the future," said Franz Dobnik, President and CEO of Sakha Enterprises Corporation.
Sakha Enterprises Corporation

Contact: Franz Dobnik, President

1 First Canadian Place, Suite 350, Toronto, ON, Canada M5X 1C1

Common shares outstanding: 56 million

Share float: 3 million
In compliance with the safe harbor provision of the Private Securities Litigation Act of 1995, Sakha notes that statements contained in the announcement that are nor historical fact may be forward-looking statement that are subject to a variety of risks and uncertainties. Accordingly, Sakha wishes to caution readers of this announcement that its future results may differ materially from those that any forward-looking statement may imply. There are no assurances that above described events will be completed. There can be no assurances of the ability of the Company to achieve the sales goals, obtain contract or financing, consummate acquisitions or achieve profitability in the future.
For further information, contactT:

Franz Dobnik

President

Phone: (416) 830 0905

Web site: http://www.sakhaenterprises.com
###