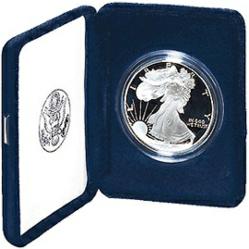 Los Angeles, CA (PRWEB) July 14, 2011
The new 2011 Silver Proof Eagle coins were released in June this year and greeted by eager investors. Silver eagle bullon coins and proofs have seen its fourth best month this year and given the prevalent demand, it is likely that the coin may top all previous sales. Even though silver prices have almost doubled since last year from $ 22 to $ 37, global savy investors can't get enough of silver.
Regal Assest is estimating the silver coins value will only go up as the mint will either cease production or simply can't meet demand. It wasnt many short years ago that the US Mint suspended all its silver proof sets after the precious metals market prices accelerated tremendously. However, even amidst this blanketing fear of a repetition of the previous trend, many collectors are appeased by the mere fact that they had a lot to profit once the silver price stabilized.
There is speculation about whether the Mint will produce enough to satiate the demand or keep it restricted so as not to devalue its desirability. In 2008, collectors bought over 700,000 of the bullion silver eagles and in 2010, the US mint cut the production after 860,000 sold. This year the silver eagles are facing a rocketing demand of 20 million.
Reagl Assest is encouraging it's investors to invest in silver as a means to hedge against inflation and diversify in an uncertain global economy. Regal only offers internationally recognized silver bullion, silver proofs and junk silver bags. Americans can buy silver and have it shipped to their homes for physical delivery by calling 1-877-962-1133 or ordering online http://www.RegalGoldCoins.com
# # #