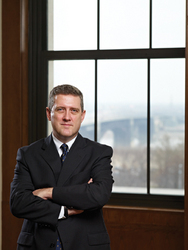 St. Louis (Vocus) November 19, 2009
In a speech Wednesday to area business leaders at the 2009 Commerce Bank Economic Breakfast, St. Louis Fed President James Bullard described the forces driving this nascent economic recovery and posed the question: How sustainable is this growth going forward?
The first phase of the recovery has been driven by several factors, he said, including global growth: Stronger-than-expected global growth, especially in Asia, has been a main force.
Bullards presentation, The First Phase of the U.S. Recovery, can be viewed at:

http://research.stlouisfed.org/econ/bullard/BullardCommerceFinal.pdf.
Other forces are driving the fledgling recovery in the U.S.: Personal consumption and the housing sector have stabilized. The stress in financial markets is abating.
Bond spreads have narrowed and credit default swap prices have declined. However, some stress still remains in these markets, he said.
Labor markets are still a trouble spot, but there are signs of improvement. While civilian unemployment remains high, Bullard said, the pace of job losses has slowed.
Inflation is still low, although global commodity prices are quite volatile and inflation uncertainty remains elevated compared with last fall, Bullard said.
Monetary Policy
Looking ahead, Bullard discussed the three components of current monetary policy: the Feds liquidity programs, the near-zero interest rate policy and the asset purchase program.
Since the liquidity programs are naturally tapering off as the crisis recedes, they are not an inflationary concern.
Policy rates are near zero in the U.S. and the rest of G-7 countries, something not seen in postwar economic history, Bullard said, adding that interest rates may stay low for some time. The FOMC did not begin policy

rate increases until 2