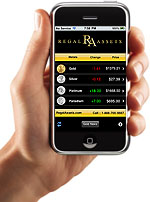 Los Angles, CA (PRWEB) August 22, 2011
For the second week in a row, the stock market takes a direct plunge resulting in some of the biggest losses on Thursday with NASDAQ closing down 5.22 percent, S& P 500 closing down at 4.46 percent and the Dow closing at 3.68 negative percent. Most of these drops had to do with the global instability that is taking place. US gold dealer Regal Assets has seen an increase in investor interest to sell off their stocks and buy gold.
Another credit rating company, Fitch, has reconfirmed its triple credit rating with the United States. However, Fitch is warning that if the United States does fix their current federal budget deficit, it probably will have to downgrade the credit rating of the United States just like S&P did last week sending the stock market into a downfall. These accounts are sending investments from individuals, corporations and countries into more tangible assets such as gold bullion.
Hugo Chavez, the Prime Minister of Venezuela, had contemplated getting their gold reserves back from various countries. There is about 365 metric ton of gold that Venezuela holds and out of that, 211 metric ton of gold are held by the United States, Canada, Europe and the Swiss Bank. 99 metric ton of gold has been held by the Bank of England. However, over eleven million worth of gold reserves from the United States, Canada, Europe and the Swiss Bank has been summoned back to Venezuela by the Prime Minister. This really speaks to how shaky things are in the global financial marketplace as the price of gold goes up and the US dollar weakens.
Both the French and the Germans have met in Paris this past Tuesday to talk about and express their ideas and contribution toward the European bailout plan that is supposed to get the euro zone back on its track to prevent the forecast of a recession. It is predicted by many financial experts that the European Central Bank (ECB) may have to reverse its rate policy due to the stock market instability. There is a long way to go, but discussions are in place to see how this situation can be remedied.
Regal Assets encourages investors to guarding the price of gold thru their phone app iGoldLive, as gold prices reflect the awareness of the international financial crisis. Regal is a full service gold and silver dealer shipping direct to consumers for physical delivery and possession. Regal Assets can take orders by phone at 1-877-962-1133 or investors to buy gold online at http://www.RegalGoldCoins.com
###