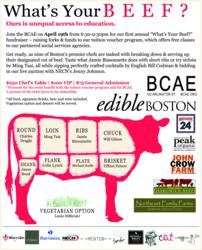 Boston, MA (PRWEB) March 05, 2012
On Thursday April 19th, 2012 from 6:30pm-9:30pm, the Boston Center for Adult Education (BCAE) will hold its first annual Whats Your Beef? fundraiser – raising forks & funds for the BCAE and its tuition voucher program, which offers free classes to its partnered social services agencies.
Get ready as nine of Bostons premiere chefs including Ming Tsai (Blue Ginger), Jamie Bissonnette (Coppa), Jason Bond (Bondir), Colin Lynch (Menton), Charles Draghi (Erbaluce), Michael Scelfo (Russell House Tavern), Will Gilson (eat), Louie DiBiccari (Storyville & Chef Louie Night) and Tiffany Faison (Sweet Cheeks) — are tasked with breaking down & serving up their designated cut of beef. Tickets include samplings from each chef (a vegetarian option will also be served), as well as perfectly crafted cocktails by "English Bill" Codman, of Storyville, a live auction with NECN's Jenny Johnson, beer, wine and dessert.
Whats our beef, you ask? Our beef is restricted access to education. As the oldest adult educational non-profit in New England, all students benefit from their experience at BCAE but, for some, the meaning is deeper. For an unemployed mother who lands a job because of the skills she learned in a computer class or a domestic violence victim who rediscovers hope through an art class, the BCAE can provide life-changing experiences, but cost can be prohibitive for those that need it most. And that? Thats everyones beef.
Ticket Price: