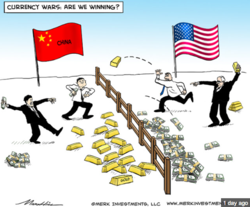 Chantilly, VA (PRWEB) May 16, 2013
While recent price movements in the gold market have led many to question golds role as money, as a reserve, and as a store of value, central banks around the world seem to desire this barbarous relic more than paper debt currency. Data from World Gold Council estimates that at the end of 2012.Central Banks owned about 31,700 tons of the metal, or about 3% of all the gold ever mined. For the average country about 8% of its reserves are held in gold. However, the discrepancy between countries is quite large and may be indicative of future gold trends. Currently, the U.S. Federal Reserve leads the world in gold holdings with 8,133.5 metric tons of gold. This accounts for 74.7% of its reserve holdings.
The trend amongst developing countries is to decrease their holdings of euros and dollars as a percent of reserves and increase their gold holdings. According to the World Gold Council, China, Russia and Japan, three of the worlds largest economies, have only 1.6% and 3.1% and 8.9% of their reserves in gold. If they were to move to match the U.S. and Europes pattern of 70% plus, gold demand would be overwhelming. It is important to understand central bank fund flows, because it can indicate a country's faith in other central banks, and can dictate the movement of gold futures.
Over the past decade the pattern of gold purchasing is shifting from western countries to eastern economies, and this trend is likely to persist. Central Banks bought 9 million tons in the first two months of this year which is the most central banks have bought since 1964, just before the market tumbled into the bears, according to Bloomberg. What this means for gold is that not only is there an increase in demand, but the constant purchases made by central banks could create a price floor for gold. As the price drops, the eastern economies increase their gold holdings, driving prices back up. As a result, gold futures will probably never drop below $ 1,000 an ounce again. The gold purchases also mean a reduction in the holdings of debt instruments. China, who purchased record amounts of gold in March 2013, looking to diversify out of U.S bonds, which could drive up inflation for the U.S. economy.
According to the April 25th Bloomberg article, "Morgan Stanley expects central banks to buy another 655 tons through 2018, while the WGC anticipates purchases of at least 450 tons this year alone. The price slump may not deter them because of how much longer they typically hold assets relative to most investors."
Boilerplate/bio:

The Bullion Bank originated in 2008 as refinery cash for gold in Alexandria, Va. and still continues to purchase and refine all forms of scrap gold, silver and platinum. Experts at The Bullion Bank pride themselves on their top-notch quality customer service and are committed to them only, as they work independently and are not influenced by any obligations to banks or other financial service providers. To see what The Bullion Bank can do for you, visit http://www.thebullionbank.com.