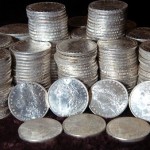 London, UK (PRWEB) October 03, 2012
The price of silver has risen for the third month in a row finishing at $ 34.58/oz. at the close of trading on the Comex in NY on Friday. The price of silver rose by $ 3.14/10% in September following gains of 12.6% in August and 1.1% in July. Overall the silver price finished the third quarter of 2012, 25.2% above its starting price in July.
Silver has outperformed all other precious metals in the commodity market in the year to date and this trend looks set to continue following the Feds announcement of further quantitative easing measures. The Fed announced plans in September for a $ 40 billion monthly stimulus package in mortgage backed securities with further positive signals coming from the Central European Bank as well as the Peoples Bank of China.
The demand for silver coins reached its highest level of the year to date with more than 3 million American Silver Eagle coins ordered from the US Mint in September. This is the highest sales figure since January when over 6 million coins were ordered by US Mint distributors. In addition more than 14,000 America the Beautiful 5 ounce silver coins were sold along with 10,000 coins honouring Hawaii Volcanoes National Park.
The rise in the demand for silver and silver coins has come as no surprise to the experts at http://silvercoinexpert.com/. Investors around the globe are increasingly looking for a tangible home for their assets as the world economy lurches from one crisis to the next. With the price of silver being a fraction of that of gold and at the same time offering a much better return on investment this will continue for the foreseeable future.
About silvercoinexpert.com

The http://silvercoinexpert.com/ website is a complete resource for collectors of silver coins and anyone who wishes to invest in silver. Featuring informative articles, daily blog posts and up to date silver prices from the international commodity markets the site has everything a collector needs to stay up to date.