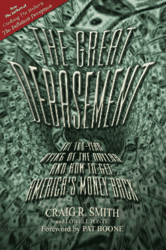 Phoenix, AZ (PRWEB) October 29, 2012
A specter is haunting our economy, and widely-praised financial experts Craig R. Smith and Lowell Ponte track it down in their new book The Great Debasement: The 100-Year Dying of the Dollar and How to Get America's Money Back, an amazing new look at what politicians of both parties for their own secret purposes have done to our money and economy.
The U.S. Dollar is becoming a disembodied phantom ghost money, they write of the emerging cashless society, seen mostly as an apparition, conjured by invisible electrons dancing through computer circuits….
The computers that store our money have their own ghosts and demons, Smith and Ponte explain, and the world is already fighting secret digital wars and terrorism that now uses bugs to infect bank computers.
Europe's economies are in trouble because the Euro began as a Frankenstein currency and has become a Zombie currency, as gravely may soon happen to the Dollar.
China invented the first paper money, and has a long tradition of burning ghost money to enrich loved ones in the afterlife, whether in heaven or hell.
Thomas Jefferson said that such paper fiat currency like today's dollar was only the ghost of money, and not money itself.
Smith and Ponte explain what Jefferson meant, and show how the vampire taxation and money manipulation, which they call The Great Debasement in their new book, have already sucked 98 percent of the purchasing power out of the Dollar and may soon kill it.
In this largest confiscation of wealth in human history, you, your children and other Americans have lost an astonishing $ 222 Trillion or more.
Give your audience a spooky new view of our economy and money a landscape where Federal Reserve wizards magically conjure dollars out of thin air, where moneyed vultures and other animal spirits watch the shadow inventory of haunted unsold houses, and the stock exchange has triple-witching hours.
Craig's and Lowell's new book transports readers to amazing places from ancient Greece, to the court of King Henry VIII who beheaded two of his six wives, to the Persian Gulf during a ship-devouring Shamal windstorm, to the spendthrift Ottoman Empire where rulers put tons of gold leaf on palace walls, and more.
Craig and Lowell offer a treasure-trove of haunting information where the name Dixie came from and its strange connection to money, what the car name Subaru actually means, who President Andrew Jackson called a nest of vipers and why, and dozens more fascinating factoids.
Craig and Lowell also lay bare why the dollars you earn today have only 2 pennies of the purchasing power that a U.S. Dollar had 100 years ago.
Craig and Lowell, as economist-detectives followed the money and have cracked the case of how The Great Debasement made the value of America's money and your life savings shrink by 98 percent in the sneaky largest confiscation of wealth in human history.
Their new book tells Americans how they can protect themselves from having their earnings and savings taken by this continuing deliberate Debasement of the dollar and our society.
Media can request an advance digital copy of The Great Debasement by calling David Bradshaw of Idea Factory Press at (602) 918.3296.
To schedule an interview with Craig R. Smith or Lowell Ponte, call: Bronwin Barilla at (800) 950-2428 or email bkbarilla@greatdebasement.com