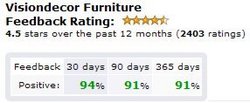 Los Angeles, CA (PRWEB) June 10, 2008
Visiondecor.com, an online furniture small business, has achieved positive customer satisfaction levels of 94%, which has allowed them to prosper in increasing return customer rates and survive a weakening economy. The housing market and furniture industry has experienced major disruption through tightening credit markets and bankruptcies across the United States, and Visiondecor.com has made a key strategic and beneficial choice by focusing on the customer to be able to survive competition in a tough economy.
"The average consumer has been very discerning about their spending, so we create value and develop trust with the customer where we focus on their needs which motivates customers to come back and buy from us time and time again," says Eric Lau, CEO and co-Founder of Visiondecor.com.
During tough times, when rising gas prices and a high unemployment rates reduce the average American's real income for spending, customers have less desire to try out new and unknown companies. Consumers increasingly desire to know that they are getting something of quality, value, and good service right off the bat, rather than risk their limited discretionary spending on something that they will have to dispute with their credit card company when something goes wrong.
Visiondecor.com has established trust and a loyal base of over 100,000 customers since beginning to sell furniture and home products online in 2002, and that familiarity of a good experience has enabled Visiondecor.com's customers to become repeat customers and thus allowing business growth during a weakening economy.
Visiondecor.com's company ideology is based on this statement: "To experience the sheer excitement of surpassing everyone's expectations and improving the lives of those that support us." And focusing on customer satisfaction and improving performance through holding true to their values has led them to their unprecedented achievement of 94% positive customer satisfaction for both their company and surpassing most of their peers in the industry.
Corporate America has much to learn regarding economic cycles and bursting bubbles, such as the new challenges of our nation's credit crisis and unforeseen future problems Americans have yet to face. And it not only takes innovation and ideas that keep our country moving forward, but also the need for companies and individuals alike to recognize and hold dear the values and virtues that has made America what it is today. Companies, like Visiondecor.com, have proven the key to surviving tough economic times and even recessions, throughout our nation's history, lie in having the right values and upholding them in good times and bad.
About Visiondecor.com:

Visiondecor.com engages in selling furniture at their flagship website, and on their other multiple retail sales channels, including auction sites, retail partnership, catalogs, mailers, business to business and over the phone and fax. Its product selection, with over 10,000 items, includes living room furniture, bedroom furniture, dining room furniture and other home goods for furnishing the home. Their marketing strategy focuses on offering affordable pricing, simple ordering, and convenient delivery to customers shopping for items ranging from coat racks, barstools, coffee tables, dining chairs, dining sets, sofa sets, to bedroom sets. Visiondecor.com was founded in 2002 and is headquartered in City of Industry, CA.
###
Find More Real Income Press Releases