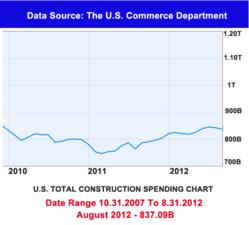 Minneapolis, Minnesota (PRWEB) October 03, 2012
Spending on construction of single-family residential homes and apartments increased again, a hopeful sign for the modest housing recovery. Spending on residential construction fell 1.6 percent in July from June to a seasonally adjusted annual level of $ 264.6 billion. But that was dragged lower by a 5.5 percent decline in home improvement projects, perhaps due to the decline in U.S. housing wealth.
Destiny Homes owner Butch Sprenger says, "Commerce Department reports, CoreLogic's price index report, and Standard & Poor's/Case-Shiller all carry the similar thread of housing increases. Used by the Federal Reserve, CoreLogic's price index is the third national index to show steady increases inspite of the recent dip. The Standard & Poor's/Case-Shiller index posted its first annual increase in nearly two years last week. That is remarkable given our overall economic state.
The Commerce Department said Tuesday that overall construction spending declined 0.9 percent in July. It followed three months of gains, which were driven by increases in home and apartment construction. The recent construction spending improvements have been widespread. Of 100 large cities CoreLogic tracks, only 23 cities posted year-over-year declines in July. On a positive note, that's four fewer than in June.
Areas where spending on construction was up:


New single-family construction was up year-over-year by 20.8 percent
Multi-family construction gained a 44.8 percent on an annual basis
Construction spending on apartments increased
Private construction projects were up 12.1 percent year-over-year
Private residential projects gained 0.6 percent
Even with home prices up, areas showing less strength in construction spending were reported as follows:
Spending on nonresidential projects fell 0.9 percent to an annual level of $ 294.1 billion.
Spending on government projects dropped 0.4 percent to a level of $ 275.7 billion.
Spending on state and local building projects fell 0.3 percent.
Spending on federal construction projects was down 1.3 percent.
Destiny Homes takes a big picture view, noting that the current pace of construction spending and building activity, on a national level, remains significantly below historical norms. For example, the July 2012 total is just 42% of the residential construction spending total of July 2003. While the recovery in home building varies from location to location, it is stronger than average in Minnesota, and the overall positive trend is expected to continue into 2013.
Federal Reserve Chairman Ben Bernanke spoke last Friday to the National Association of Home Builders (NAHB) in Orlando. Bernanke illustrated the connection between home values and consumer spending, saying it fuels 70 percent of economic activity.
Then at the Economic Club of Indiana Monday, on the topic of low interest rates and hoping to encourage savers, Bernanke acknowledged, "Many savers are also homeowners; indeed, a family's home may be its most important financial asset. Recent declines in housing wealth may be reducing consumer spending between $ 200 billion and $ 375 billion per year. That reduction corresponds to lower living standards for many Americans." Bernanke remains positive that we will see continued steady improvement in construction spending and the housing sector.
If you are looking to renovate or remodel your Twin Cities residential home, or build a new construction home, call Destiny Homes at 952-934-5706. As an awarding winning Minneapolis-based luxury home builder, we make every detail and every dollar count to help clients enjoy their homes more.