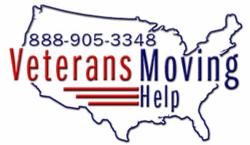 Gainesville, FL (PRWEB) July 10, 2013
Earlier this month, the Bureau of Labor Statistics released Veteran unemployment data for the month of June. Veterans who served in Iraq or Afghanistan (or in many cases, both) had an unemployment rate of 7% in June 2013. Among non-veterans, the unemployment rate was 7.5% during the same period.
The good news is that Veterans' job prospects are improving. But the situation still remains grim for many: More than 200,000 recent veterans remain unemployed, and nearly half a million more are out of the labor force altogether.
Veterans' employment challenges might seem surprising. Returning veterans have many traits that make them desirable employees: discipline, leadership, experience, problem-solving ability and, often, hard-to-find trade skills.
Gregory Sledge, owner of Veterans Moving Help, comments on the unemployment rates of Veterans saying "Veterans Moving Help is combating this situation by hiring a 100% veteran workforce. The reasons for this are that veterans possess leadership and teamwork skills unmatched by their civilian counterparts and veterans are trustworthy, dependable, drug free and have a strong work ethic. Having these types of employees benefits Veterans Moving Help by streamlining the company's operations and therefore allowing Veterans Moving Help to pass these cost-savings onto the customers."
But, veterans also face hurdles that most civilians don't. Some 28% of Gulf War era II veterans have a service-related disability; 9% are at least 60% disabled. They also have less civilian work experience. Veterans who served in the Reserves or National Guard – who are more likely to have had civilian work experience – had unemployment rates more in line with the general population.
Veterans Moving Help is taking advantage of the highly skilled workforce that is coming back. Veterans Moving Help is the nation's first moving labor company that focuses on employing Veterans. All Veteran moving help crews are background checked, experienced, knowledgeable, licensed and insured.
The Veterans from Veteransmovinghelp.com encourage the President, Congress, Governors, State Legislators and the General Public to continue to step up and support Veterans as they battle unemployment.
Related Unemployment Rate Press Releases