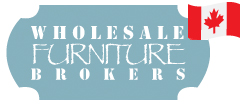 Vancouver, British Columbia (Vocus/PRWEB) March 10, 2011
Wholesale Furniture Brokers has dropped prices by 5 to 10% on all products in their Canadian online furniture store. Over 3200 products including bunk beds, bedroom sets, and patio furniture had their prices reduced on GoWFB.ca. This is the second major price decrease to affect all product listings on the website. The previous price decrease to all popular products on GoWFB.ca was also by 5 to 10% and occurred on October, 2007 when the Canadian dollar had appreciated.
"It's uncommon for the currency to appreciate faster than the natural cycle of updating products, when it does, we take action. Most Canadian furniture and mattress stores don't consider US stores as competitors, but if you listen to customers, you know they are," says Dave Zirnhelt, Wholesale Furniture Brokers' President.
Most of Wholesale Furniture Brokers' suppliers price goods in USD. They employ this strategy to hedge against currency fluctuations as they pay the factories in USD. As Canadas currency has appreciated, so have the currencies in China, Malaysia, and other countries where furniture is produced. That means costs are rising as well. The price of oil is driving up transportation costs as well, so Wholesale Furniture Brokers' move to decrease prices is quite aggressive.
"Despite the loonie being worth more than the greenback, our Canadian prices are still mostly higher. We have Canadian duties and transportation costs to thank for that," adds Zirnhelt. "When shoppers look online at our US competitors, they'll likely find a lower ticket price, what they don't see are what some competitors are calling International Transaction Charges. That's where they add in the cost of exchanging currencies, duties, extra shipping, and a margin to cover the extra work and currency fluctuations. Just because they don't charge you tax doesn't mean you won't be required to pay it. On GoWFB.ca, we price in Canadian funds and all the extra costs are included in that price. The only thing added to the ticket price is sales tax, and that amount depends on where your order is delivered to."
How long will the lower pricing last? "As long as the currency appreciation balances out the rising costs," says Zirnhelt.
About Wholesale Furniture Brokers

Wholesale Furniture Brokers offers price leading furniture online with free shipping to online customers direct from the manufacturers in the USA and Canada. World-class customer service is provided to customers by telephone, email, and chat. Shoppers can choose from a growing collection of traditional, modern, and contemporary furniture styles for inside and outside of the home at Wholesale Furniture Brokers. Consumers do not need to pay a membership fee to buy from Wholesale Furniture Brokers.
# # #